Eritrean Festival Frankfurt
1st Day – Friday – Events in Picture
2nd Day – Saturday – Events in Picture
ENCDC Executive Office for Reconciliation, Dialog and Coordination
Eid al-Adha Greeting Message from ENCDC Executive Office for Media and Culture
Breaking News
ቤት ጽሕፈት ዜናን ባህልን ኤ/ሃ/ባ/ዲ/ለ
ክቡራትን ክቡራንን ኣንበብቲ ፡

ኣስዒብና ብሓው ነጋሽ ዑስማን፣ ኣቦ መንበር ፈጻሚ ቤ/ጽ ኤርትራዊ ሃገራዊ ባይቶ ንዲሞክራስያዊ ለውጢ ኣብ 3ይን ሓድነታውን ጉባኤ ሰልፊ ዲሞክራሲ ህዝቢ ኤርትራን ሃገራዊ ድሕነት ኤርትራ – ሕድሪን ዝቐረበ ቃል ከነቕርበልኩም ደስ ይብለና።

Read More>>
Third & Unity Congress of EPDP and ENS/Hidri Opens Monday in Germany
The German city of Wiesbaden, 40kms west of Frankfurt, once again hosted an Eritrean political congress on Monday, 29 July 2019, at which participant delegates converged at the congress venue earlier Sunday night coming from faraway places in Australia, many parts of USA, Canada and nine European countries. Also attending and addressing the opening ceremony were, Mr. Negash Osman, the newly elected chairman of the Eritrean National Council for Democratic Change (ENCDC), a coalition of 18 Eritrean organizations and Mr. Ghebrekidan Ghebrezghi, representative of the Eritrean National Front (ENF) which is a coalition of four Eritrean political organizations.
Read More>>
BBC News | ትግርኛ
ፖሊስ ከተማ ካይሮ ብዙሓት ኤርትራውያን ሰልፈኛታት ኣሲሩ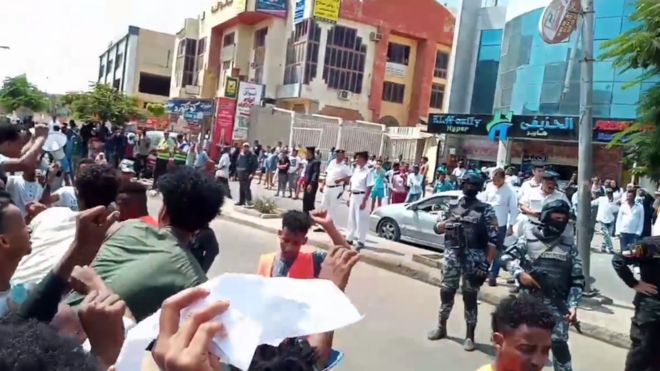 ካብ ሰዓት 7 ንጉሆ ጀሚሮም ኣብቲ ስፍራ ዝተረኽቡ እቶም ከባቢ 500 ዝኾኑ ስደተኛታት "ሕቡራት ሃገራት ኣበይ ኣሎ?" ኢሎም እናጨደሩ ዘርእይ ቪድዮ ኣብ ማሕበራዊ መራኸቢታት ተዘርጊሑ ኣሎ።
እንተኾነ ግን ፖሊስ ነዊሕ ከይጸንሑ ከም ዝበተኖም ይገልጹ።
Read More>>

BBC News
Eritrea Orthodox Church ex-leader expelled for 'heresy'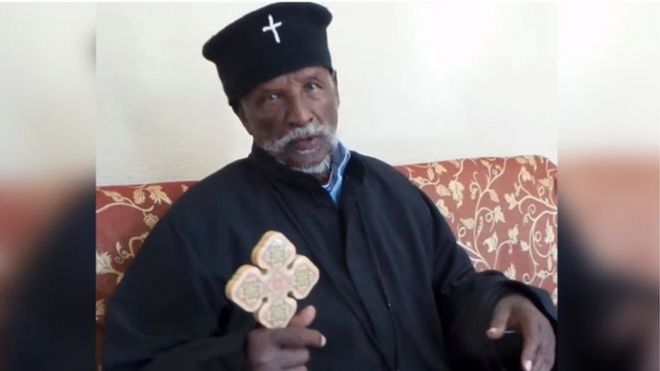 Antonios, who was the head of the church until 2006, was accused of heresy in a statement signed by a group of top bishops.
He has for a long time been a critic of the government and was deposed and put under house arrest 13 years ago.
Read more>>

US demands Saudi Arabia release 'critic of Islam'
VP Mike Pence calls upon Saudi Arabia, Eriteria, Mauritania and Pakistan to release religious dissidents.
US Vice President Mike Pence on Thursday called out ally Saudi Arabia for the suppression of religious liberties and urged it to release Raif Badawi, a blogger imprisoned for reportedly insulting Islam.
Read more>>

BBC News
Sudan military and civilians sign deal to end deadly turmoil
It is a "historic moment" for the country, the deputy head of Sudan's ruling military council, Mohamed Hamdan "Hemeti" Dagolo, is quoted as saying by AFP news agency.
Read more>>

How the glow of the historic accord between Ethiopia and Eritrea has faded
A year ago Eritreans could hardly contain their joy as Ethiopian Prime Minister Abiy Ahmed touched down in Asmara. The city had seen nothing like it in a generation that knew war rather than peace. Men and women lined the streets and waved Ethiopian flags as Abiy arrived to seal a peace deal.
Read more >>

ENCDC participates in a high-level delegation of the UN Human Rights Council in Geneva
The National Council participates in a high-level delegation in the meetings of the United Nations Human Rights Council, held from June 24 to July 7, 2019 in Geneva, Switzerland.
Read more in Tigringa >>
Read more in Arabic >>
Special Rapporteur on Human Rights in Eritrea – 19th Meeting, 41st Regular Session Human Rights Council

Watch the Rapporteur's Discussion on UN Web TV>>
Watch the Session on UN Web TV >>

In Eritrea the cost of speaking up may be nation's Catholic health care network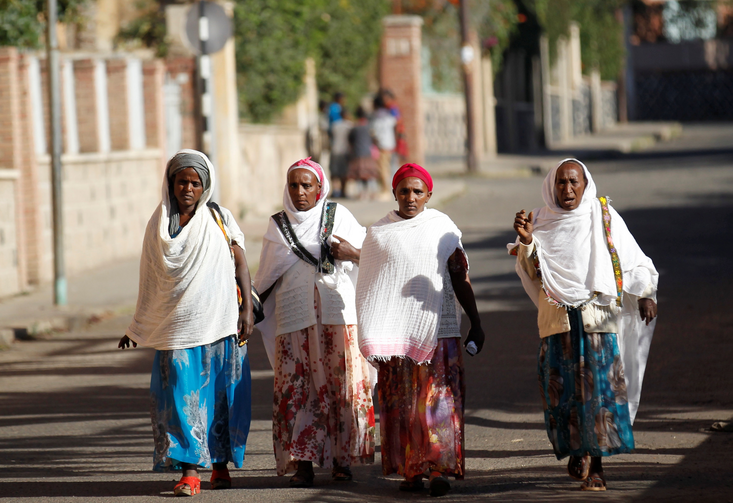 In a country with a reputation for authoritarianism, silence can be a tool for maintaining civil peace with the political establishment. But in recent months, Catholic bishops in Eritrea have chosen to break their silence, as they have at times of crisis in the past, and are now paying the cost, regional analysts say.
Read more>>

UN Rapporteur: Eritrea Exodus Will Continue in Absence of Reforms
GENEVA – A U.N. special investigator warns that an exodus from Eritrea will continue if the human rights situation in the country does not improve and the government fails to implement reforms guaranteeing basic freedoms. The official submitted her first annual report to the U.N. Human Rights Council in Geneva Tuesday.
Read more>>

UN expert: No rights improvements in Eritrea after peace deal
The human rights situation in Eritrea shows no sign of improvement since it signed a peace agreement with neighbouring Ethiopia last year, ending two decades of war, a UN expert said in a report.
Read more>>

UK joins calls to Eritrea to respect religious freedom
The UK has added its voice to calls for the protection of religious freedom in Eritrea following the arbitrary arrest of Christians and the closure of multiple Catholic-run hospitals.
At the 41st session of the UN Human Rights Council, the UK said it welcomed Eritrea's increasing engagement with the Human Rights Council, but called on the country to respect freedom of religion and belief, and release all those in arbitrary detention.
Read more>>

Eritrea Mandate Needed Until Abuses Addressed
Interactive Dialogue with Special Rapporteur on Eritrea
We welcome the Special Rapporteur's report and her identification of specific benchmarks which, if implemented, could set Eritrea on a path to meaningful human rights reform.

It is therefore all the more disappointing that, despite the Special Rapporteur's constructive approach, there has been no cooperation from Eritrea, no access, and no change on the ground.
Read more>>

ENCDC Message of Condolences to the People and the Government of Ethiopia
His Excellency Dr. Abiy Ahmed
The Ethiopian Prime Minister
On behalf of the Eritrean National Council for Democratic Change, I would like to express to Your Excellency and to the brotherly people of Ethiopia, our deepest condolences on the terrible tragedies and loss of lives that has occurred to the great people of Ethiopia.
Read more>>

Press Release
June 23, 2019
Minnesota Reconciliation Conference Resolution
We, the undersigned Eritrean Justice-seeking (opposition) political parties, civic organizations, and study groups, met in Minneapolis, Minnesota, on June 22-23, 2019, under the auspices of Meadi-Zete/TempoAfricTv, to discuss the need to work together to advance our common political activities in pursuit of bringing democratic change in Eritrea. After meeting for two days discussing the various fundamental issues that are affecting the Eritrean political landscape, and enhancing our common understanding in addressing critical Eritrean political issues, we resolve that:
Read more>>

General Accused in Ethiopian Coup Attempt Is Reported Killed
ADDIS ABABA, Ethiopia — The general suspected of being behind a coup attempt in the Ethiopian region of Amhara has been captured and killed, state media reported on Monday.
The suspect, Gen. Asamnew Tsige, was accused of planning gun attacks on Saturday night that killed four people, including the army's chief of staff and Amhara's regional president. A fifth victim, the attorney general of Amhara, died of his wounds on Monday.
Read more>>

BBC News
Eritrea's seizure of Roman Catholic Church properties criticised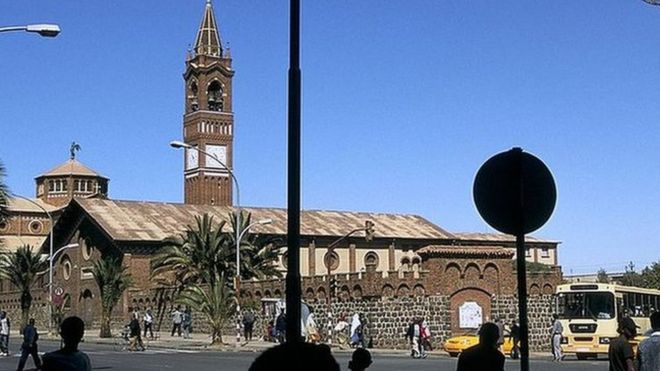 n a letter to the ministry of health, the Church said patients were ordered to go home, and soldiers were deployed to the centres to guard them.

The seizure of the buildings could not happen in a country where the rule of law existed, the letter added.

The government has not yet commented on the Church's claims.
Read more>>

In Ethiopia, Former U.S. Diplomats See Promise in Reform
As the country's new, young leader spurs dramatic change, serious challenges lie ahead, say former American ambassadors
In Ethiopia, political prisoners are free and the security services revamped. Women now comprise half the cabinet, and serve as ceremonial head of state, chief justice, and chair of the electoral commission. Significant steps have been taken toward resolving a 20-year conflict with neighboring Eritrea and reforms to unleash the economy—already one of Africa's fastest growing—are ostensibly on the way. Elections are slated for next year. Under Abiy Ahmed, the nation's popular new prime minister, Ethiopia is changing in ways long desired by American policymakers, agreed four former U.S. ambassadors to the country. Yet the most the U.S. is likely to do is offer encouragement and a bit of support, they said.
Read more>>
ENCDC Support to the Open Letter to the Eritrean Head of State by 103 Prominent Africans
It is with great appreciation and gratitude that I write this letter on behalf of the Eritrean National Council for Democratic Change (ENCDC) in particular, and the Eritrean people in general, to say thank you for speaking out against the injustices and the tremendous suffering of Eritreans at the hands of the dictatorial regime of Isaias Afewerki.
Read more>>
Leading Africans reach out to Afwerki, but will Eritrea respond?
More than 100 African thought leaders have appealed to the Eritrean president to allow a delegation to visit the isolated Horn of Africa nation, meet with its leaders and citizens, and open a dialogue with a view toward democratic reforms.
Read more>>

OPEN LETTER TO THE ERITREAN HEAD OF STATE
Your Excellency, President Isaias Aferwerki:

We write to convey our most sincere congratulations upon your country's normalization of diplomatic relations with Ethiopia. This is a development much appreciated by all Africans of goodwill.
Read more>>
Press Release – June 6, 2019
In a pre-emptive stance on the African Union's decision on the developments in Sudan, after the sit-in of protestors were disbanded by force, the Eritrean Ministry of Information issued a Press Release on June 5 and published on the official website of the ministry, warning the internationalization of the Sudan issue and working to exacerbate the situation there. The statement included an accusation of the African Union for failing to meet the aspirations of the African peoples and that it provided appropriate pretexts for external interference.
Read more>>
ሕብረት ኣፍሪቃ፡ ወተሃደራዊ መሰጋገሪ ባይቶ ሱዳን፣ ነቶም ኣድማ ገይሮም ዘለዉ ሰላማውያን ንምብታን፣ ሓይሊ ብድሕሪ ምጥቃሙ፡ ኣብ ሱዳን ዝምዕብል ዘሎ ኩነታት ኣመልኪቱ ውሳኔ ክምዝውስድ ክግመት ጸኒሑ'ዩ። ሚኒስትሪ ዜና ገባቲ ስርዓት ኢሳያስ ብዕለት 5 ሰነ 2019 ኣብ ዘውጸኦ ጋዜጣዊ መግለጺ፣ ከሎ ጌና ንምቕዳሙ፡ ንሕብረት ኣፍሪቃ ጉዳይ ሱዳን ኣህጉራዊ መልክዕ ከየትሕዞን፡ ነቲ ኩነታት ከየጋድዶን ኣጠንቂቑ። ኣብ ርእሲኡ'ውን መግለጺ ስርዓት ህግደፍ፡ ሕብረት ኣፍሪቃ ድልየታት ህዝቢታት ኣፍሪቃ ኣብ ምርግጋጽ ከም ዝፈሸለን፡ ንግዳማዊ ኢድ ምትእትታው ጠንቅታት ኣብ ምፍጣር ግደ ይጻወት ምህላዉ ገሊጹ።
Read more>>
في موقف استباقي من القرار المتوقع اتخاذه من الاتحاد الأفريقي بشأن تطورات الأوضاع في السودان، بعد فض الاعتصام بالقوة، أصدر ت وزارة الإعلام الإرترية في الخامس من شهر يونيو الجاري، تصريحًا صحفيًّا صدر في الموقع الإلكتروني الرسمي التابع لها، حذر فيه الاتحاد الأفريقي من تدويل موضوع السودان بحجة أن ذلك من شأنه أن يؤدي إلى تفاقم الوضع فيه. وتضمن التصريح اتهامًا للاتحاد الأفريقي بالفشل في تلبية تطلعات الشعوب الأفريقية، وبأنه يعطي ذرائع مناسبة للتدخلات الخارجية
Read more>>
Eid Al Fitr Greetin
g-June 3, 2019
ናይ ዮሃና መልእኽቲ ብኣጋጣሚ ዒድ ኣል ፊጥር ኣል ሙባረክ
ኤርትራዊ ሃገራዊ ባይቶ ንዲሞክራስያዊ ለውጢ፣ ብኣጋጣሚ ዒድ ኣል ፊጥር ኣል ሙባረክ፣ ንኹሎም ኤርትራውያንን፣ ሓይልታታ ዲሞክራስያዊ ለውጥን፣ ኣባላት ሃገራዊ ባይቶን ከምኡ'ውን ንኣመንቲ እስልምና ኣብ ዓለም እንቛዕ ጾም ሮሞዳን ወዲእኩም ናብ ዒድ ብሰላም ኣብጻሕኩም ብምባል፣ ርሑስ ዒድ ክገብሮ ምንዮቱ ብምግላጽ፣ ንህዝብና ካብ ገባቲ ስርዓት ህግደፍ ተገላጊሉ፣ ኣብ መላእ ሃገርና ናይ ሓርነትን ሰላምን ርግኣታትን ሰንደቕ ዕላማ ዘንበልብለሉ እዋን ክኾናልና ንልዑል ፈጣሪ ይልምን።

ርሑስ ዒድ ኣል ፊጥር ይግበረልና !!

ቤት ጽሕፈት ዜናን ባህልን
ኤርትራዊ ሃገራዊ ባይቶ ንዲሞክራስያዊ ለውጢ
3 ሰነ 2019
تهنئة المجلس الوطنيالإرتري للتغيير الديمقراطي
بمناسبة عيد الفطر المبارك
يسر المجلس الوطني الإرتري للتغيير الديمقراطي أن يزف أسمى آيات التهاني والتبريكات إلى الشعب الإرتري، ولقوى التغيير الديمقراطي، وأعضاء المجلس الوطني الإرتري، وكافة المسلمين في العالم، بمناسبة حلول عيد الفطر المبارك، أعاده الله على الجميع بالخير واليمن والبركات. ونرجو من الله أن يكون عيدًا يفتح أمام الشعب عهد انعتاق من النظام الديكتاتوري القائم، وعهدًا ترفرف فيه رايات الحرية والسلام والاستقرار في سماء إرتريا

!!كل عام والجميع بخير

مكتب الاعلام والثقافة
للمجلس الوطني الإرتري للتغيير الديمقراطي
3 يونيو 2019
Bulletin Board – June 3, 2019
ደምዳሚ መግለጺ ቀዳማይ ስሩዕ ኣኼባ
ፈጻሚ ቤት ጽሕፈት ኤሃባዲለ
ብድሕሪ ምዝዛም ካልኣይ ሃገራዊ ጉባኤ ኤርትራዊ ሃገራዊ ባይቶ ንዲሞክራስያዊ ለውጢን ዝተገብረ ቀዳማይ ስሩዕ ኣኼባ ማእከላይ መሪሕነትን፡ ፈጻሚ ቤት ጽሕፈት፣ ብጉባኤን ብማእከላይ መሪሕነትን ዝተወስዱ ውሳኔታትን ዝተሓንጸጹ መደብ ዕዮን ንምትግባር፣ እዋናዊ ትልምታት ንምስራዕ ቀዳማይ ስሩዕ ኣኼብኡ ኣካይዱ።
Read more>>
البيان الصادر عن الاجتماع الدوري الأول
للمكتب التنفيذي للمجلس الوطني الإرتري للتغيير الديمقراطي
في ختـام المؤتمر الوطني الثـــــاني للمجلس الوطني الإرتـــــــري للتغيير الديمقراطي، والتئام الاجتماع الدوري الأول للقيادة المركزية المنبثقة عن المؤتمر الثاني، عقد المكتب التنفيذي اجتماعه الدوري الأول لوضع خطة عمل لتنفيذ برنامج العمل المرحلي والقرارات الصادرة عن المؤتمر الثاني والاجتماع الدوري الأول للقيادة المركزية
Read more>>
About Us
Eritrean National Council for Democratic Change (ENCDC) is a coalition of justice-loving Eritrean political parties and civic societies fighting to bring democratic change in Eritrea. First established in 2011 at the 1st Eritrean National Congress in Awasa, Ethiopia; ENCDC conducted its 2nd National Congress in Stockholm, Sweden on April 16-21, 2019; and reaffirmed its commitment to help end the authoritarian regime and usher a democratic change in Eritrea. The ENCDC is governed by a Political Charter and Bylaws and is run by a 61-member Central Committee and 7-member Executive Office. At the 2nd National Congress, a new Political Charter and Bylaws were adapted, and elections were held to fill the Central Committee and Executive Office positions. ENCDC will work in coalition and coordination with all justice-loving groups and individuals to affect the needed change in Eritrea.
---
ትግርኛ (Coming soon!)
---
عربى (Coming soon!)
Contact Information
ENCDC Executive Office:
encdc.ex@gmail.com
Send Us a Message
---
Copyright Your Company Name 2019 – All rights reserved